Further wait for festival ticket holders
Fri, 29 Jul 2011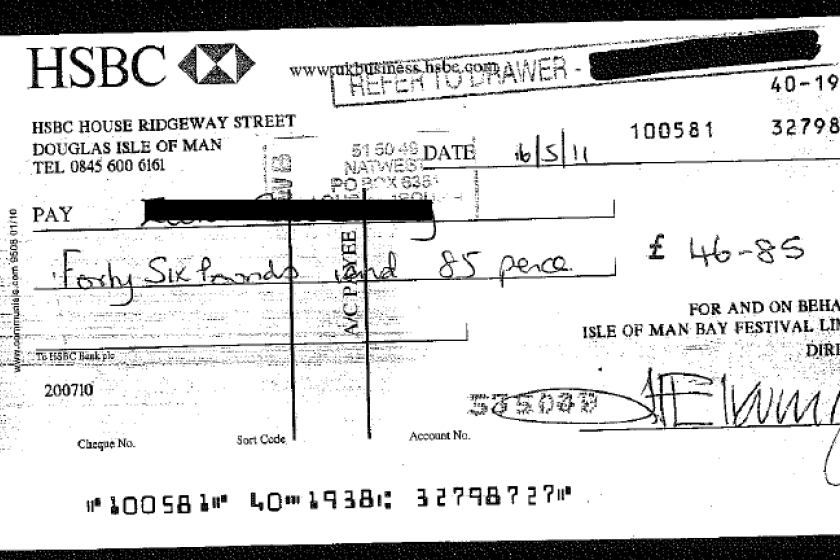 There'll be a further wait for Bay Festival tickets holders wanting their money refunded.
In a statement released today HMV says discussions are still going on with organiser Jonathon Irving.
It says these are at an advanced stage and they say it would be in people's interests to await the outcome of these talks.
An announcement about final arrangements for refunds is due no later than 31st August.
It had originally been stated that if he money wasn't paid by today, people could contact HMV Tickets to claim a refund.
Meanwhile, the Isle of Man Office of Fair Trading says Mr Irving has ignored requests to provide more information.
The OFT says there are other avenues that people may wish to try.
These include claiming from their credit card company for purchases costing over £100.
People with amounts under £100 can try claiming under the 'chargeback' system.
This is the case for people paying by visa or mastercard debit cards, however there is no legal requirement for them to pay out.
Full HMV statement:
"hmvtickets remain in active and positive discussions with the promoter of the cancelled Isle of Man Bay festival, Isle of Man Bay Festival Limited, in order to bring this matter to a satisfactory and timely resolution. As these discussions are at an advanced stage, we feel that it will be helpful and in the interests of all parties to await their outcome before processing refunds. We believe that this will expedite the refund process and make it more straightforward, avoiding any need for customers to liaise with both the promoter and their ticket agent. We would like to thank customers holding tickets to this event for their ongoing patience and understanding - and we would also like to reassure them that an announcement regarding final arrangements for the payment of refunds in accordance with their terms and conditions of purchase will be made by no later than 31 August 2011."
Advice from the OFT:
"Payments made by credit card – if payment was made by credit card and the price of individual tickets was in excess of £100 (exclusive of charges) the credit card holder may make a claim to their credit card company. The credit card company is equally liable under the law for the refund. The credit card holder should contact their credit card company direct (not Visa or Mastercard or Amex) and ask for a claim form – state on the claim form it is a claim under "Section 75 of the Consumer Credit Act". If the payment was made by credit card but it was under £100 you may wish to try claiming under the "Chargeback" system described in Payment by debit card below.
Payment by debit card – Visa and Mastercard will both consider claims for refunds under their "Chargeback" system – however there is not a legal requirement for them to do so. The card holder should complain to their bank and state that they wish to make a claim under the "Chargeback" system stating that the event was cancelled and no refund has been made. "Chargeback" may apply to other types of card – ticket holders could contact their banks to see if this applies to theirs.
In both of the above cases ticket holders should make sure that they have proof of purchase and if possible copies of any statements made by Isle of Man Bay Festival Limited in confirmation that the event was cancelled. All claims should be made as soon as possible to ensure they are within any time limits set.
Ticket holders may also wish to write to HMV to ensure that it is aware of their concerns.
The Office will remain in contact with HMV and will advise ticket holders of any further developments as it is aware of them."
---